Two cards this evening (well the undercard starts in 3 hours...) - both with an interesting fight or two to get involved with. (Bundled these both together, if not, can easily split them up, just let me know!) Will start first with the Sky Sports card. Full Running Order on the Matchroom site: >
https://www.matchroomboxing.com/fight-nights/scott-quigg-vs-jono-carroll/
Undercard
DOORS & FIRST FIGHT 4.30PM - LIVE ON BEFORE THE BELL

BLANE HYLAND

VS

JOEL SANCHEZ

4 X 3 MINS SUPER-FLYWEIGHT CONTEST

FOLLOWED BY

BRADLEY REA

VS

PAVOL GARAJ

4 X 3 MINS SUPER-MIDDLEWEIGHT CONTEST

FOLLOWED BY

IBRAHIM NADIM

VS

STEFAN NICOLE

4 X 3 MINS SUPER-BANTAMWEIGHT CONTEST

FOLLOWED BY

AQIB FIAZ

VS

DEAN JONES

4 X 3 MINS LIGHTWEIGHT CONTEST

LIVE ON SKY SPORTS FACEBOOK 5.50PM

DALTON SMITH

VS

BENSON NYILAWILA

6 X 3 MINS SUPER-LIGHTWEIGHT CONTEST

FOLLOWED BY

ROBBIE DAVIES JR

VS

DAMIAN LEONARDO YAPUR

8 X 3 SUPER-LIGHTWEIGHT CONTEST
Main Card - Sky Sports Arena from 7pm (SS Main Event from 8pm)

JACK CULLEN
(1/33) x
TOMAS REYNOSO
(9/1)
ANTHONY FOWLER
(1/100) x
THEOPHILUS TETTEH
(16/1)
ZACH PARKER
(2/7) x
ROHAN MURDOCK
(5/2)
HUGHIE FURY
(1/50) x
PAVEL SOUR
(10/1)
SCOTT QUIGG
(4/7) x
JONO CARROLL
(11/8)
Jack Cullen takes the first step on the road to recovery after his stoppage loss against Felix Cash back in November. The "Little Lever's Meat Cleaver" was always on the back-foot in that bout and was fairly easily beaten by Cash. Tonight's opponent, Tomas Andres Reynoso, actually has a points loss in the Ams to Caleb Plant in WSB, but has lost both of his bouts in 2019, including one to an opponent who was 10-7.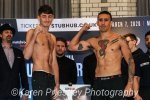 Actually think this might be tougher than it seems for Cullen, unless this opponent is completely shot to bits. According to Twitter, this is to be used as a warm-up fight for a Jason Quigley bout in Manchester. Again, I think Cullen could well struggle there if that bout comes off.

Next up is Anthony Fowler - who would have been overwhelming favourite over previously scheduled opponent Jack Flatley, before he pulled out earlier in the week. The late-notice opponent is Theophilus Tetteh - who has been seen on these shores in the past in a defeat to John Ryder. Tetteh has barely fought over the past few years and shouldn't last very long. A quick persual of his Boxrec though shows the Ghanaian has extreme power in both hands. Check out this from his comeback fight, where he stopped his opponent in the very first round. Shades of Ali Raymi and his body-shots. Timestamped.
One of the most interesting fights of the card comes in the form of Zach Parker/Rohan Murdock. The latter named hasn't fought on these shores and all but one has been in Oceania. My impression of him has not been great on the times I've seen him (two appearances on Jeff Horn undercards), but that was a while ago and Murdock hasn't fought since December 2018. He was signed to a deal by MTK last summer, but can't obviously find a reason why he didn't fight. Parker himself actually only fought once in 2019 and that wasn't in a competitive fight. His last 'test' was where he was recipient of a controversial decision against Daryll Williams. Parker injured his shoulder in that fight and did well to even last the distance. I thought Parker might have done enough to win (from memory). I'm of the opinion that the bookies odds are about right and Parker deservedly should be favourite.
Our own
@Chatty
has his fight preview >
https://othboxing.com/2020/03/04/prediction-league-preview-zach-parker-v-rohan-murdock/
Shaun Tate said:

Parker put himself in the position with recent form beating the likes of Darryll Williams for the British title in 2018, following a victory over Luke Blackledge the year prior. Whilst relatively inactive last year, having only one bout that saw him victorious over Steven Crambert, Parker will be looking to kick off a big start to the new decade by forcing himself into a mandatory position for a world title shot.
...
With similar levels of experience, a similar knockout ratio, and both touted as having a similar pedigree, it's a tough bout to call and a real close 50/50 on paper. It's an excellent addition to the Manchester card in which it acts as a very solid sub-main to the Quigg v Carroll main event.
Hughie Fury is on before the main event and surely this has been done deliberately so the crowd in attendance can get themselves sorted before the main event. Hughie was due to face tonight's scheduled opponent at Monte-Carlo last year but fell sick after weighing in and the fight was cancelled. Pavel Sour was last seen in the ring dropping a decision to Jermaine Franklin in the USA. His other defeat was a 1-round demolition by Filip Hrgovic. In the meantime he won and defended twice the Czech Heavyweight Title.
If we see the Hughie Fury that beat Sam Sexton, he should stop Sour within five rounds.
Quigg/Carroll
is the main event and I'll be honest, if I wasn't planning on writing this RBR, I wouldn't be that bothered about it. Therefore, I'll leave it to the pros. Here's some needle at the weigh-in.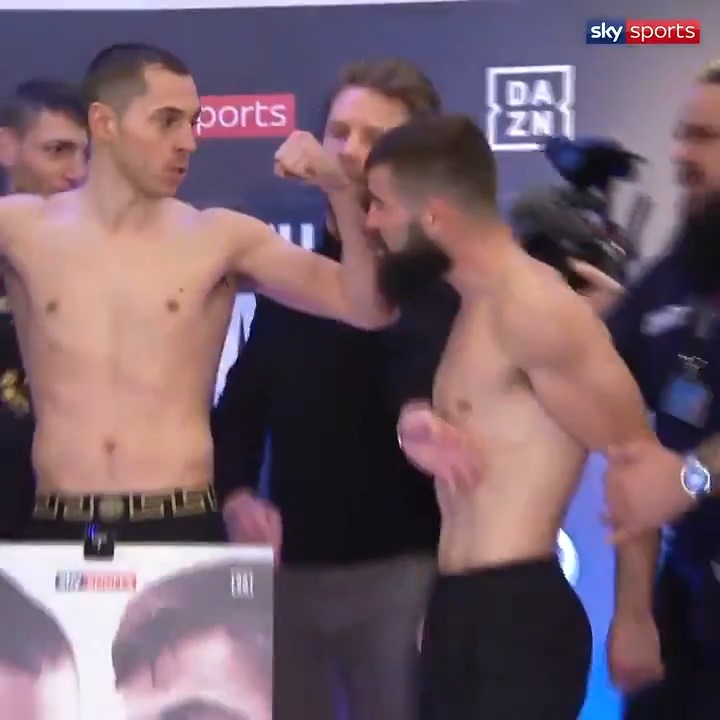 "😤😤😤 @scottquigg & @jono_carroll have a bit of a push & a pull at today's weigh-in! 👀 Quigg: 9st 3lbs 6oz Carroll: 9st 4lbs 📺 Watch live tomorrow night from 7pm on Sky Sports Action! https://t.co/uLgJft3U6I"
twitter.com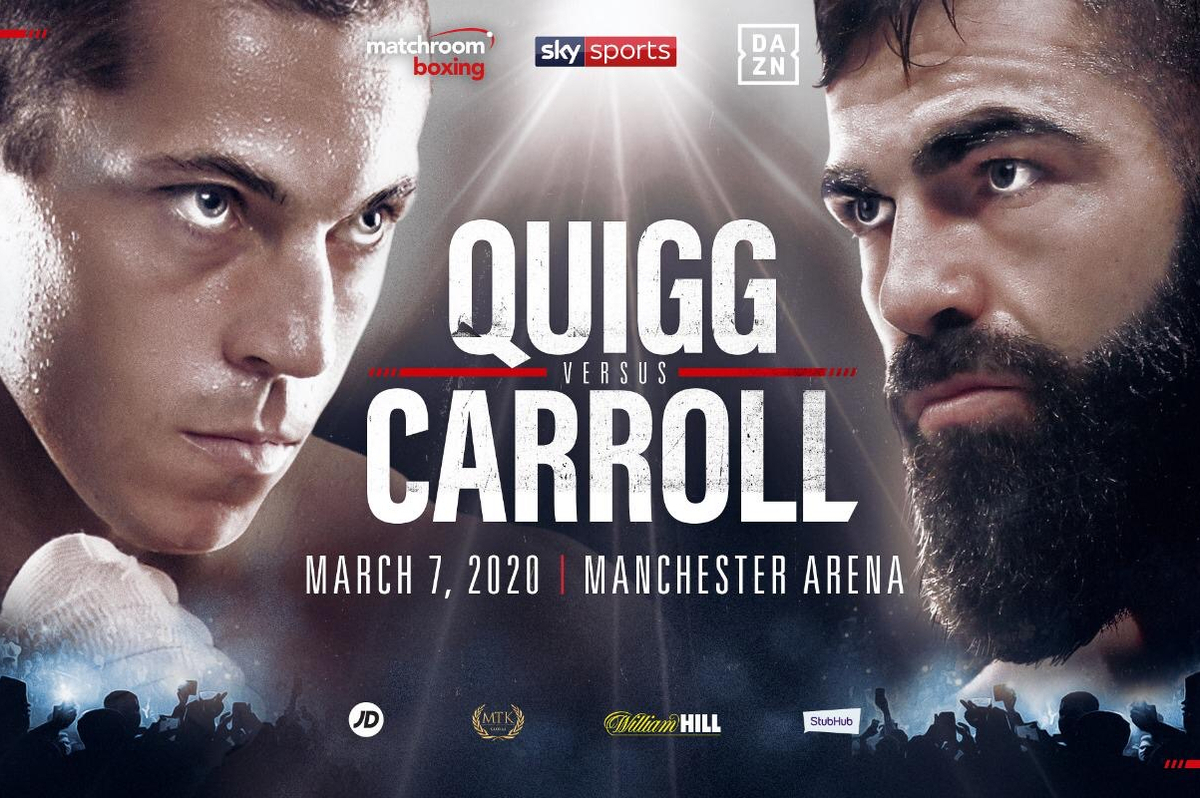 Shaun Tate previews the highlight of the weekend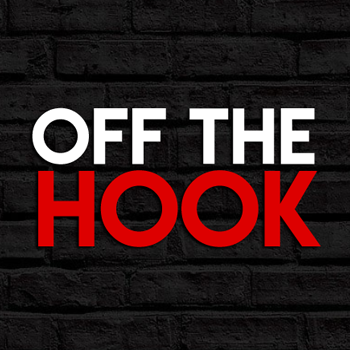 othboxing.com
Shaun Tate said:

The fight is being treat as a big domestic clash but both men sit on the fringes of the world champions and contenders so a win here may well shoot one of them into another title fight. There could be even more at stake for the loser as they will either have to go on a rebuilding project or drop down a level (at least momentarily) so there is a lot to play for when the pair meet.
For me: Quigg should have enough to overcome Jono Carroll, who I believe will likely be brave in a quite obvious points defeat.
------------
I've bundled the Boxnation/Premier Sports Card onto the same RBR. Where the Heavyweights take centre stage.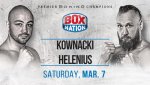 Select undercard fight
Robert Alfonso
(1/4) v
Carlos Negron
(11/4)
Boxnation/Premier Sports 2 - 1am UK, FOX - 8pm ET >
Undefeated Pole Adam Kownacki headlines a night of Heavyweight showdowns against Robert Helenius in a WBA Heavyweight Title eliminator, live on BoxNation.
www.boxnation.com
Frank Sanchez Faure
(1/10) v
Joey Dawejko
(11/2)
Efe Ajagba
(1/66) v
Razvan Cojanu
(11/1)
Adam Kownacki
(1/25) v
Robert Helenius
(8/1)
I could give my opinion on the card - but
@Beadybea
already has elsewhere, so I'll defer to his more esteemed heavyweight judgement. I'm in definite agreement about the most interesting fight of the four.
Yeah this is my kind of card. Kownacki should walk Helenius down and stop him within 6 rounds.

Frank Sanchez vs Joey Dawejko is the pick of the fights for me. Sanchez has looked decent so far but Dawejko might push the pace outside of his comfort zone where I'm not sure he'll look so good.

Ajagba should treat Cojanu like a heavy bag workout.

Alfonso should beat Negron fairly easily but will probably coast to a decision.
There was a bit of "beef" at the Dawejko weigh-in too.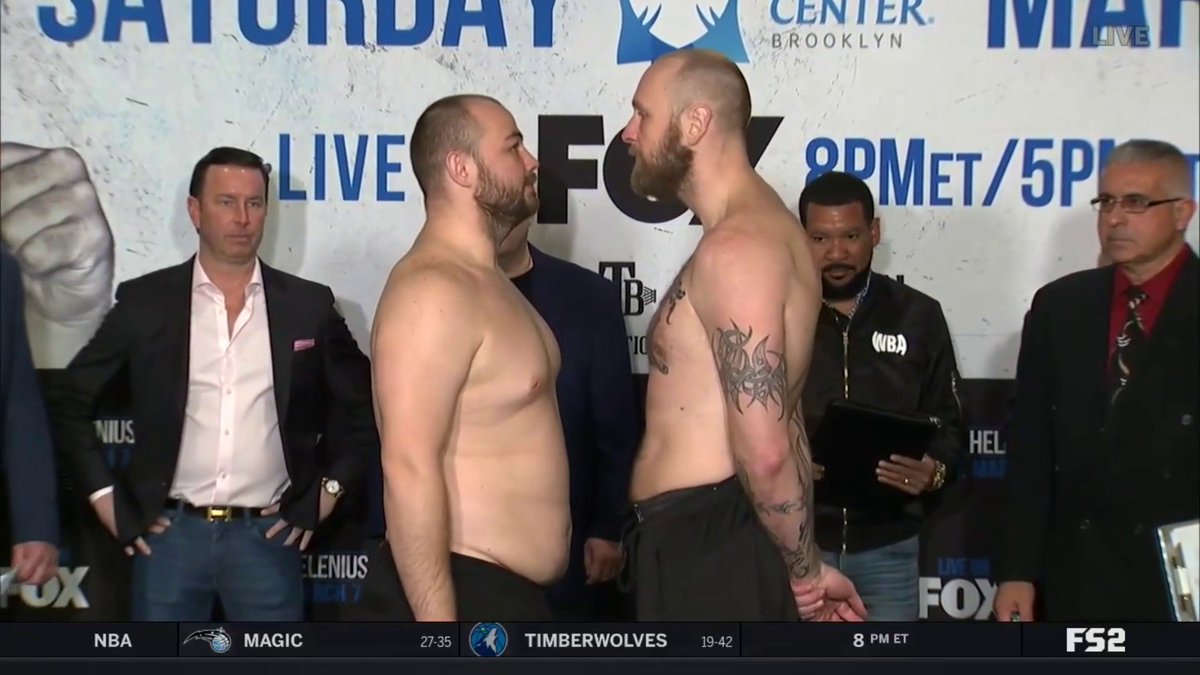 "OFFICIAL WEIGH-IN! ⚖️ .@AKbabyface and Robert Helenius both make weight for their 12-round WBA Heavyweight title eliminator fight tomorrow live on FOX at 8 pm ET. #KownackiHelenius https://t.co/CpQPjbqlfH"
twitter.com
We've also got a preview from Shaun Tate on the OTH site. >
https://othboxing.com/2020/03/03/prediction-league-preview-adam-kownacki-v-robert-helenius/
Shaun Tate said:

Helenius still has a very respectable record, only losing the three times to Dillian Whyte, Gerald Washington and Johan Duhaupus, but it's not the losses that have Kownacki as a heavy favourite, it's the lack of world level wins.

Other than Erkan Teper in 2018, you have to go all the way back to 2011 when Helenius scored a dubious points victory over UK's Derek Chisora to see anything that resembles a win over a top contender, and late in his career it would be a big upset if he were to secure victory over Kownacki.
Not the best of cards on either side of the pond.
Outside of the main TV cards (well, in the UK), MTK also have their card on Youtube/ESPN + where Danny Dignum and Alfredo Meli headline in Essex. Meli looked atrocious last time out and lost, albeit was given a narrow points victory on the cards. Dignum beat Conrad Cummings in five rounds and is the 1/6 favourite with the bookmakers. Will edit this post once IFL put the link up.
Running order courtesy of >
https://britishboxingnews.co.uk/blogs/running-order-for-danny-dignum-vs-alfredo-meli
DOORS OPEN - 5:00pm GMT

FIRST BELL - 5:20pm GMT

Preliminary bouts (IFL TV)

Bout 1
Super-welterweight, 6 Rounds
LIAM WELLS vs. ZYGIMANTUS BUTKEVICIUS

Bout 2
Super-welterweight, 4 Rounds
RANDAL BARLOW vs. KEVIN MCCAULEY

Bout 3
Super-welterweight, 4 Rounds
JACK MARTIN vs. MJ HALL

Bout 4
Super-lightweight, 6 Rounds
MARTIN MCDONAGH vs. CHRIS ADAWAY

Bout 5
Middleweight, 6 Rounds
MITCH FREARSON vs. ANGEL EMILOV

Bout 6
Super-middleweight, 4 Rounds
KEVIN REAVELL vs. SCOTT WILLIAMS

Live on ESPN+ (US), 8:00pm GMT (3:00PM EST)

Bout 7
Middleweight, 6 Rounds
STEVEN DONNELLY (11st 10lbs 6oz) vs. PAVEL ALBRECHT (11st 13lbs 4oz)

Bout 8
Middleweight, 6 Rounds
JAMES HAWLEY (11st 6lbs 6oz) vs. JOSH ADEWALE (11st 6lbs 1oz)

Bout 9
Welterweight, 10 rounds
SHAQUILLE DAY (10st 13lbs) vs. KAISEE BENJAMIN (10st 6lbs 8oz)

Bout 10
Southern Area super-lightweight title, 10 rounds
SAM GILLEY (10st 6lbs 6oz) vs. CURTIS FELIX JR (10st 6lbs 2oz)

Bout 11
WBO European middleweight title, 10 rounds
DANNY DIGNUM (11st 5lbs 8oz) vs. ALFREDO MELI (11st 5lbs 4oz)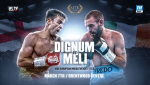 Plenty going on tonight, any predictions, bets etc?