Country Flag
We back. No major differences between any of the previous competitions. The competition starts this weekend coming February 5th and will end the last weekend of May.
Just reply each week with your winner and method of victory. Fights chosen for the league will
generally
be kept to those available to watch on television/alternative broadcasting methods however to help keep things moving fights with betting odds offered at major sites will also be considered. This year weeks with less than four fights will not go ahead. Some Friday bouts will be added also but I will put the fixtures out no later than the preceding Tuesday evening and get mods to send a notification out this time around!
You get three points for calling the correct winner and a bonus point for predicting the correct method. No need for specific round or type of conclusion - 'stoppage' or 'decision' is fine.
A 'decision' is any judges unanimous, majority or split decision.
A stoppage is any KO/TKO/RSF/retirement. DQs will count in this respect also.
Calling a draw nets you the full 4 points available.
A no contest remains exactly that and the bout becomes void.
ALL results as per https://boxrec.com/ - there is no scope for 'but it was a robbery' or any widespread condemnation of the judging/officiating.
Achieving the maximum points available that week earns you a 'clean sweep'. These will be used in the event of any tie breaks at the end of the competition.
You can play for fun, jump in and out any week as you please.
You can see the thread for last year if you haven't played before and want the gist of things at this link
Have fun, enjoy, and feel free to add any suggestions before we get going for week one this coming weekend!
Week 12 Table & week 13 fixtures: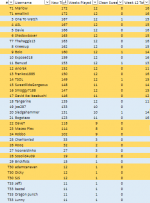 FINAL WEEK FIXTURES *NOTE: ALL FIXTURES MUST BE SENT TO ME BY PRIVATE MESSAGE ONLY. This is so people at the top or near enough don't just match somebody else's predictions and therefore do enough to automatically win. There are 20 points available.

June 4: Melbourne, Australia
George Kambosos Jr. vs. Devin Haney, 12 rounds, IBF/WBO/WBA/WBC lightweight unification
June 4: Minneapolis
Stephen Fulton Jr. vs. Danny Roman, 12 rounds, for Fulton's WBC/WBO junior featherweight title
David Morrell vs. Kalvin Henderson, 12 rounds, for Morrell's WBA "regular" super middleweight title
June 4: Cardiff
Kenichi Ogawa vs. Joe Cordina, 12 rounds, for Ogawa's IBF junior lightweight title
Faroukh Kourbanov vs. Zelfa Barrett, 12 rounds, for Kourbanov's European junior lightweight title
Last edited: